Very High Voltage Switch-mode BEC
---
Product Description
Dimension Engineering's Very High Voltage BEC is the world's first BEC compatible with input voltages as high as 60V/14s lithium. It can power your receiver and servos with up to 2.5A. VHVBEC is especially well suited for high voltage helicopters running 4 high speed/torque digital servos. Installing and using VHVBEC is much more convenient than monitoring and recharging a receiver pack.
VHVBEC's output is selectable between 5V/6V using a small slide switch. The 6V setting gives more speed and torque to the servos and is especially useful for helicopter flyers. A red LED indicates when 6V is selected.
As with all of Dimension Engineering's BEC products, VHVBEC has been carefully designed and tested to ensure it does not create radio interference. You can use it without fear of glitching.
When used with non-optoisolated speed controls, VHVBEC has a handy throttle pass-through feature that allows you to install it without cutting up your ESC's wires.
When used with optoisolated speed controls, VHVBEC installs easily by plugging it into the battery port of your receiver.
VHVBEC is targeted towards customers who will be flying with very high voltage battery packs. If you do not anticipate flying with battery packs above 8s then SportBEC might be all you need.
For best results, ensure that your VHVBEC is installed at least 2 inches away from your receiver and antenna.
Additional Notes
Flyers with rotor spans larger than 60 inches or with in-flight servo torque loads greater than 80oz.in should consider putting two VHVBECs in parallel, or using a ServoSense Plus to measure in-flight current draw before performing hard maneuvers. No special circuitry is needed for parallel operation. Just solder them in parallel at the battery connector with the correct polarity.
Product Specs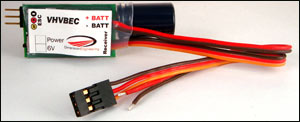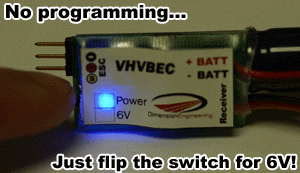 (Press Esc to stop animation)